Amicii Rescue Network Called Into Action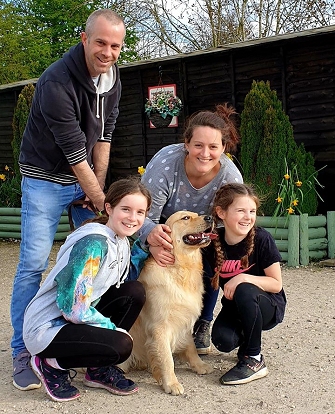 The Amicii Rescue Network, set up to help dog owners in light of the coronavirus outbreak didn't have long to wait before we got our first call for assistance. The elderly owner of Bertie, a gorgoeus, but boisterous 11-month-old boy had taken ill and was in hospital. After trying to get help for two weeks, the owner's family finally found Amicii and, although Bertie was not an Amicii dog, we couldn't refuse to help. Bertie was collected on the 4th of April and signed over to Amicii to rehome as it was felt that even if his owner made a full recovery, a young dog like Bertie was a bit too much of a handful.
The day after we collected Bertie, he was handed over to his foster family who immediately fell in love with him, and him with them. All being well they ultimately hope to adopt him.
Sadly a few days after collecting Bertie, we received the news that his owner, Trevor, had passed away. Our thoughts and sympathies are with his family at this sad time. It was a privilege to be able to help in some small way.
Unfortunately, we doubt Bertie will be the only dog we are called upon to assist. As a small charity with limited income, we will need funds to help with kennel bills, transport, crates and support for the foster carers once they have been matched to the dog. If you feel able to help with a donation, however small, it would be gratefully appreciated. Donations can be made online by clicking here.
For more information on our Emergency Rescue Network, please click here.