Get Involved
We are delighted that you have taken the time to have a look at this page and welcome your support in any way that you are able to give it. As a small charity, we can only keep running with the generosity and kindness of people like you and the dogs at Amicii are in desperate need of your support and love, wherever you might be in the world!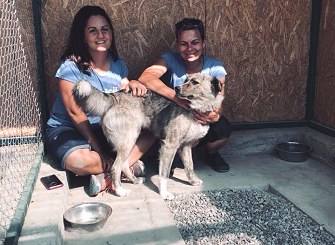 Volunteer
We organize regular working trips to the Amicii Rescue in Romania, where volunteers help with everything from bathing and walking the dogs, cuddling them and trust building with the more frightened dogs, cleaning the pens, maintenance work and more. Volunteering is a hugely rewarding experience and one that you will never forget. Please get in touch if you are interested in finding out more about active volunteering for Amicii Dog Rescue. We look forward to welcoming you on board!

Fundraising
There are lots of different ways you can help to fundraise for Amicii Dog Rescue. Some of the team have taken part in official charity walks, bike rides, car boot sales, runs and challenges to raise vital funds for the dogs. The possibilites are endless and every penny goes towards helping our Amicii dogs.

We would be thrilled if you would like to help raise money for the dog. Remember, it doesn't matter how small your fundraiser is, every penny counts.
Raise Money While You Shop
You can raise money for Amicii when shopping online at no cost to yourself. Simply sign up to Easyfundraising and nominate Amicii as your chosen charity. Every time you shop at one of thousands of participating retailers you'll be invited to enable a charity donation. Just answer yes and Amicii benefit. Also, if you shop with Amazon then simply change your usual bookmark or Amazon Website address to smile.amazon.co.uk and nominate Amicii as your chosen charity.
Gift Aid Declaration
If you donate (or have donated to Amicii in the past four years) and are a UK tax payer, then please consider making a Gift Aid Declaration. Under the Gift Aid scheme, Amicii will receive an extra 25p for every £1 you donate at no extra cost to you. You can do this very quickly and easily by using our online Gift Aid Declaration here.