Our Amicii Dogs In Romania
BREEZE ❤️🐾 UNDER ASSESSMENT
Added: September 15, 2021, Last updated: September 15, 2021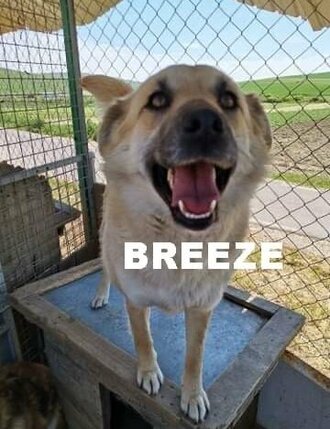 Adoption Status:
Not Currently Available For Adoption
Location:
Romania Shelter
Sponsor:
Kindly sponsored by Liz Phillips
Age:
3 years approx (4.2.21)
Type Of Home Required:
When she is ready she needs a calm home and prefers ladies , so possibly a female only home
About This Dog:
Breeze is a sweet girl who wants to be affectionate but needs to gain confidence. She gets excited now when she sees Emily and Ash and is happy to be handled and stroked now. They can put a lead on her but she is spinning around still and frightening herself. Definitely more work involved and time will play a large part in settling her down. She's good with other dogs and is a calm girl. She wasn't very keen on Eddie jumping all over her to initiate play 😄Breeze still needs more work to walk well on the lead. She Is not at all aggressive and would go well in a calm environment. She is more comfortable with ladies and can still be a little afraid of other doggies until she gets to know them but once she knows them then she is fine and at the moment lives quite happily in a pen with Koa.