Wilby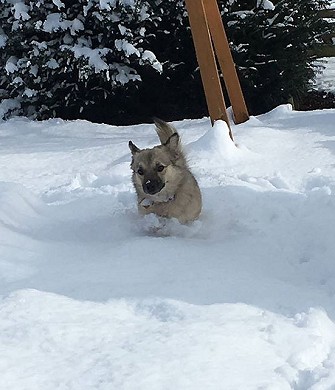 "Sweet, gentle Wilby" – this was the accurate description of Wilby when I saw him advertised looking for a home. I fell in love with his picture immediately and contacted Amicii to enquire. I was promptly sent an application form and then a home visit was organised. We had a lovely chat at the home visit and went through all the details of homing an Amicii dog.
I was put in contact with his fosterer, Lesley and we arranged for me to go and "visit" Wilby. I drove 3 and a half hours to go and see him and he was just what I was expecting. Later that day I was driving home with him safely contained in a crate!
Wilby settled straight away, he was very calm and his first night he slept downstairs. I was expecting a little accident overnight but he was very good and went straight out in the garden in the morning. I took the week off work to help settle him in and make him feel at ease.
He is a wonderful dog, he never tried to chase the cat and she still rules the house! He loves my son and will always look out for him. They go out in the garden together and come in together.
Wilby is brilliant with other dogs and loves to play with all shapes and sizes. He has been obedient from day and easy to train as he is always willing to please.
He comes to work with me and his job title is Staff Morale Officer – so many people visit him in the day for a cuddle.
I cannot thank Amicii enough for all they do for these dogs. When I mentioned I was thinking of adopting a dog from Romania I had a few of the usual comments passed on adopting a dog from abroad but now all I get is I would love a dog but it has to be like Wilby!
I would not hesitate to adopt another dog from Amicii again – all these dogs need a second chance and with love and kindness make the most wonderful companions.