Fleur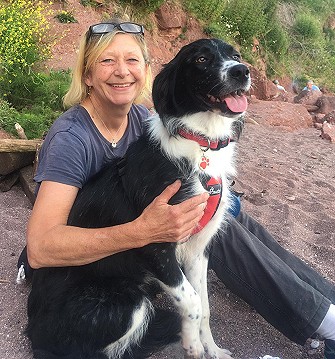 I first heard of Amicii as my friends Clare Wright and Jane Bunclark were over there volunteering and I was following their blogs (which was hilarious and spread a lot of awareness too). As I was following their posts I went on to the Amicii Facebook page, and fell in love with the pups and all the amazing work that Amicii does. At this time we had recently lost our beautiful old Labrador, leaving us with our 'socially unacceptable' border collie, Willis! We thought Willis would be ok being the only dog, as he barks at every dog/person he meets until he gets to know them, but soon his behaviour changed and he was obviously missing having another dog at home. he needed a friend!
As I was looking through the dog photos I found Fleur, or did she find me! I totally fell head over heels in love with her beautiful eyes and kept going back to look at her. I was so worried though about bringing a pup in to a home with a barking dog (not aggressive), we had many conversations about this but my husband said he thought Willis would be alright with a young, female dog, I had my doubts! I couldn't stop thinking about her and on a meet up with Clare and Jane, my husband said to tell them about Fleur, I talked everything through with them and felt a lot happier about looking in to the possibility of adopting her, I was so excited (and nervous) but couldn't wait to contact Amicii to see if we could have her.
I mentioned my concern but again was reassured especially as she was a puppy and there was great back up and help available every step of the way. So we adopted her and her papers were rushed through to try to get her on the next Happy Bus leaving in a few days! The wait to hear was unbearable, but they did it, she was on her way. I avidly waited for Anne's updates throughout the journey, and she didn't disappoint, what amazingly marvellous people they are!
The day came when we could go to meet her and bring her home. We had everything ready for her and couldn't wait! We met Clive at Exeter Services and there she was, our beautiful little girl. Clare, Jane and Paul were there too, they were dropping off donations to go back to Romania, it was so lovely that they got to see her straight away. We brought her home having discussed the 'meeting of Willis' scenario at some length beforehand. We took ages doing the introduction, she stayed in her crate and we carried on with our normal routine. Willis didn't even notice she was here at first, then he did a double take, sniffed the crate and carried on doing his thing! After a while I sat with Willis and my husband sat with Fleur, out of the crate, with our son keeping an eye on events. Then this happened … Willis is a typical border collie and his particular obsession is tennis balls, it's the, throw the bally, fetch the bally, return the bally, throw the bally and repeat kind! But he only went and got the bally, put it between his paws and very, very gently nudged it to her! Oh my goodness, there was not a dry eye in the room! He did this several times too! Willis The Wonderdog!
In no time at all they were play fighting (after we'd given her a shower, she did smell a bit like an old goat!) and it's been a loving relationship ever since, I truly couldn't have called it either way but oh my, I am so very proud of Willis.
Fleur has just had her 1st birthday, she arrived here in February, our little valentine. We truly couldn't love her any more, we adore our now not so little Romanian princess. She loves her walks, and being up on our small holding, and is so friendly and playful with all dogs and people. She does have a habit of nudging people right up the bottom, but after the initial shriek of surprise no body minds at all, she is loved by many.
The whole adoption process was so professional and easy to go through and we can't thank the Amicii team enough for all they do, not only have they given Fleur a chance, it turns out that they gave Willis a chance to have a true friend too!