Ted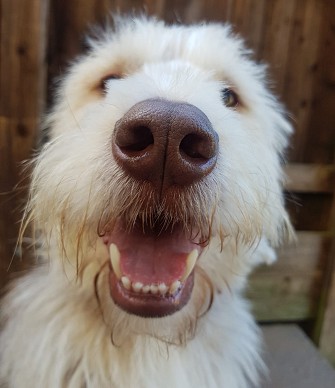 Our Ted landed in our home on 2nd April 2018. We had lost our wonderful Bearded Collie, Wilf 6 months earlier and were NEVER going to have another dog. It had been so awful when he finally passed, having had a stroke in the February and having been part of our family for over 15 years. However, the house was so empty and my daughter decided we need to fill the void!
She began her search and came across Pets4Homes and there he was looking back at us!! Axel, as he was called then, had been rescued by Amicii in the previous October with nasty leg injuries. He was brought across to the UK a few months later, having being restored to health, neutered and issued with his very own passport. He was being fostered in a nearby town and we knew it was a sign so,after contacting Amicii through the Pets4homes site, we arranged to go and visit Axel.
The most loving dog greeted my son and I as we arrived at the door (my husband didn't come with us as he knew how difficult it might be if Axel wasn't suitable for any reason and I didnt tell him Axel had been found on top of the kitchen worktops one day when his fosterer returned!) Well that was it, this boy needed a home and we needed him too!
We collected him a few days later, having had a home visit and getting him a new bed etc. We renamed him Ted because he just was 'Ted' not Axel. He has brought us all so much love and happiness. It wasn't always easy. Ted clearly had anxiety problems and chewed quite a few things at first, my shoes, sunglasses, a wallet( not the money & cards fortunately) half a pizza left on the side for 60 seconds and many other items, but we quickly learned to "clear the decks". Ted has now settled well. He's a quick learner and understands he's not to go upstairs. He no longer chews or steals things, although he can still not be trusted to resist food left out on the side for any reason. He owns three beds, one under the stairs (not Harry Potter's cupboard), a padded dog bed in the kitchen and he also adopted our lovely pouffe that matched our small settee in the TV area of the kitchen. He's now happy to be left on occasions and knows we are coming back to him soon. He loves his walks/runs and is a very sociable dog, also a real curiosity as to what breed he might be by so many people that we meet along the way.
Ted is the third dog we have owned and we have always had second hand dogs. (the first two came from homes who could no longer look after them). They are not always easy, but need us so much to help them. They will reward you over and over again with their love and attention. Anyone thinking about having a four legged friend in their life should definitely consider a rescue dog. That tail always wags as you walk through the door, they keep you fit, you'll meet and talk to people when you go out for walks and they ask for so little in return, apart from some lovely grub and affection. The rewards are just countless and taking a dog like these into your home will give you such a great feeling too!
Anne, Jim and Ted Brightman