Ralph & Cookie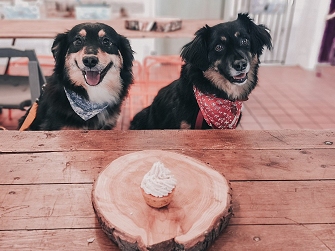 When we decided we were ready to get a dog nearly 3 years ago, we knew we wanted to give a dog from abroad a better life. During our search, we found Amicii on Facebook and I couldn't believe how many dogs they had in their care compared to lots of other shelters. There were so many puppies, adult dogs and even a horse or two. We really wanted to lighten their load just a little bit by getting a dog from them. We didn't have a specific size, colour or breed of dog in mind, but as soon as I saw a photo of Ralph (Matthias back then) I knew he had to be ours, he had such a characterful face. I got in touch with Amicii who quickly responded saying he was still available and then sent me an application form.
A couple of weeks later when we had moved to our new house we had our home check with the woman who carried out our check also giving us plenty of helpful advice on bringing home a new rescue puppy.
A few weeks after that we picked up Ralph and, unsurprisingly he was tired after his long journey from Romania so was grateful for a comfy sofa to have a good sleep on. He loved cuddles straight away so he often fell asleep on top of us. He was unsure of lots of new things he'd never seen before - planes, cars and people he didn't know, but with lots of encouragement and positive reinforcement training he soon became a lot more confident.
Now, I just couldn't be without him. He follows me around like a shadow, and loves nothing more than playing with other dogs. He's also really intelligent, he loves learning new tricks and picks them up in no time at all. He comes with us everywhere and loves joining us on holiday. We've been to Cornwall, the Peak District and the Cotswolds and he loves going on new adventures. He's still shy with people he doesn't know, so we always introduce him to new people slowly, but he absolutely loves the people he's known since he was a puppy and often can't contain his excitement so repeatedly leaps into the air.
This year we fostered an Amicii dog, Cookie. Ralph really helped bring him out of his shell so he was able to find his forever home. I've since met up with Cookie (now Buddy) and his new owner for a walk and he was like a different dog, no longer scared of everyone who passed him, but absolutely thriving in his new life.
Thank you Amicii!
Beth Goodwin