Neglected Ella Needs Our Help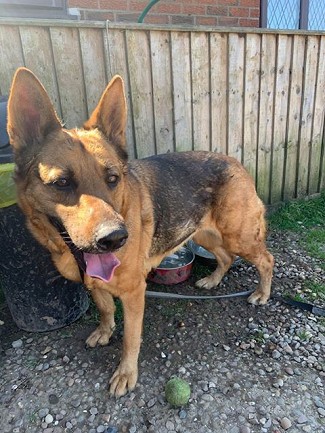 Our friends and rescue partners at Noah's Ark Rescue recently made us aware of the plight of Ella, a two year-old German Shepherd who has spent the last year neglected and living in a caravan. Basically Ella's owner moved in with their elderly parents but, after a few months moved out again, leaving Ella behind. The elderly parents have two old dogs and Ella is too boisterous for them so they have been force to keep her in the caravan. They also can't afford to feed her properly so she is really underweight. Fortunately, a neighbour has been helping where he can and he brought Ella's situation to our attention. It was reported to the RSPCA, but they said they couldn't help.
Ella is now in our care and is child friendly and good around people. She's just had no training, hence her boisterous nature. We also have to assume she is not vaccinated, she's not spayed and very likely not micro-chipped so we are fundraising to help with her care until we can find for a suitable adopter.
The estimate of costs breaks down as £200 to have Ella spayed with an additional £120 for vaccinations, microchip, worming and vet check. If you can help at all then please click here to donate online.