Scott Goes The Extra Mile for Amicii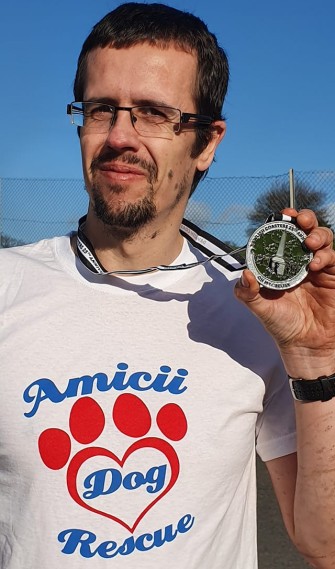 One down, eleven to go for ScottMad keen or just mad, we're not sure which, but Amicii supporter Scott Knight has literally set himself a marathon challenge for 2020 in support of Amicii! The keen runner firstly fostered Amicii dog, Bea back in 2019 as a companian for his other dog, Stanley. However, what was supposed to be a temporary foster arrangement didn't take long to become a permanent adoption (we do love a failed foster!)
Following the successful adoption of Bea, to raise vital funds for the work that Amicii does, Scott has set himself the challenge of running at least 12 half marathons, a minimum of one a month for the whole of this year. That's at least 156 miles of running in aid of Amicii - or it would be if Scott hadn't "in a moment of madness" signed himself up for the full Taunton marathon in April, taking his minimum target mileage to 169.
It's a tremendous task that Scott has set himself and for a very worthy cause. To show your support by donating, please visit his JustGiving page by clicking here.
PS. Scott's full schedule for 2020 is as follows. If any of our Amicii followers are in the area for any of these, he'd greatly appreciate your support as he clocks up the miles.
January 12th - Oh My Obelisk - Completed in 2h 13m 37s
February 8th - Exeter Half
March 29th - Tavy 13
April 5th - Taunton Marathon
May 17th - Plymouth
June 7th & 21st - Doncaster or Torbay (or maybe both)
July 19th - Frome (Not booked yet)
August - Not yet decided
September 27th - Barnstaple (Not booked yet)
October 4th- Cologne
November - Not yet decided
December - Not yet decided