Amicii Gets An Online Makeover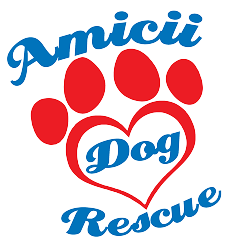 It's been a long time coming, but we are very pleased to finally launch our new Amicii Dog Rescue website! Whilst we have a strong Facebook presence, we are at the mercy of their algorithms meaning that not everyone sees everything we post, and the fast-moving nature means that important information may disappear quickly never to be seen again. With our new site, everything is available to everyone and we have full control over how long content is visible for.
Our new site has been built from the ground up and is designed to be easy to use and navigate with many new features not previously available, including…
Appeals – we can now display all our current appeals on a single page, easy to access and simple to donate.
Online Forum Community – To enhance the Amicii community and to cater for those who don't use social media, we now have our own community forums. This includes sections for the various regions within the UK where people can organise their own regional meets/walks/fundraising events and chat to fellow Amicii owners in their area. Registration is free and easy (link at top of page) so feel free to join in!
Events Calendar – There are many Amicii fundraising and social events organised throughout the year. Our new Events section allows these to be displayed in a single place for an at-a-glance view of what's on.
Online Shop (COMING SOON) – We still have a bit to do on the configuration of our online shop, but soon we will be able to sell Amicii merchandise and other items to raise vital funds to support our operations in the UK and Romania.
Supporters Directory – We have a number of businesses who either support us now or who have expressed interest in supporting the work we do. Business owners can now add and manage listings in our online Supporters Directory for a small annual fee, all of which goes towards the work we do.
Email Newsletter – You can now sign up to our email newsletters online meaning you never miss out on news about our work. Don't worry, we'll never spam you or pass your details to anyone and you can cancel at any time!
Online Gift Aid – If you donate to Amicii, either just once or regularly and you're a UK taxpayer, you can now make a Gift Aid declaration online via our website. Please click here for details.
Online Adoption/Fostering Applications – The ability to apply to adopt or foster and Amicii dog has gone fully digital! Applications can now be made online via a simple form.
Dogs Database – Over time we will be migrating all of our dogs available for adoption and fostering into a dedicated database. This will allow us to better manage and present photos and information about the dogs in our care, whilst allowing users to sort and filter dogs based on their individual desired criteria. In the meantime, all our Amicii dogs can be viewed by clicking here.
Your Stories – We want to know about your experiences adopting or fostering Amicii dogs for feature on our website. If you want to contribute and tell your Amicii story then drop us a line.
News Section – We will be providing regular news updates on our site so be sure to bookmark us and drop by regularly!
As you can see, there's lots to see and lots to do. Any feedback or problems with the website, please contact our website team by clicking here.