Exciting, Sad, But The Best Experience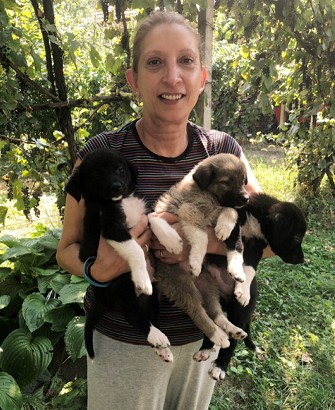 I could write a book about my amazing volunteering trips to Amicii Dog Rescue in Romania, but here is the short version! It's all about compassion and commitment and making a difference.
I have volunteered for Amicii Dog Rescue in Romania a few times now, each time is different. Exciting, sad, uplifting, exhausting but ultimately the best experience possible. No day is ever predictable in terms of what we may encounter, however the cleaning, feeding and walking of the dogs is paramount and remarkably rewarding. These dogs are truly miraculous creatures, saved from a life of uncertainty and despair, they seem to somehow sense the trust and love you offer them. No matter how sad I'm feeling, a little time spent in a kennel, or walking one of these beauties always lifts my soul. Yes it's hard, relentless, certainly not a walk in the park and some would say impossible, but I can confidently say that for each and every dog saved, fostered or adopted, despite another quickly taking their place, it is without doubt the most rewarding thing I have ever done in my life.
My first trip to Romania was with my daughter Sam in May 2017. We did the 20K Turda Gorge walk to raise funds for the shelter. What a life changing experience and I'm happy to say that lots of dogs benefitted from the amazing generosity shown. The first visit to the old shelter was harrowing initially with Sam and I tearful as we took in the reality of the existence of these dogs, but soon the joy of helping them and the knowledge that they were safe and fed and loved lifted us. With the arrival of the new shelter, and the old shelter soon to be demolished, first impressions now are transformed and amazing. Every time I arrive at the new shelter my heart soars!
In August 2018 a group of us stayed together in a house and it became a memorable trip for so many reasons. We rescued three puppies almost immediately and they instantly became loving house guests. They were very poorly when we initially found them and one had a terrible eye which he eventually had removed, but they made it. Our one-eyed Pirate, now named Odin has a wonderful forever home in the UK.
We also made an historical walk from the old shelter to the new with several dogs, on a hot, happy day. The advent of the new shelter proper had begun. I was blessed with beautiful Crumble, on this very special and unique journey. Her UK Mummy and Daddy are so very lucky. We temporarily adopted Pizza the cat, we laughed a lot, we worked hard, we swam in the salt lakes, we had wonderful meal times outside on the veranda, we worked hard, and we cried. We made good friends and we were blessed. Yes, we're there to help Dora and the dogs, but along the way we help ourselves to become better too.
On the same trip Ann Pursey had rescued a little dog from sure disaster, almost running in front of their van and he became my sponsor dog, Indy. Later I got to meet him and what a very special moment that was. He now lives with his amazing Mum in the UK, the most loved and precious boy. There are so many memories from that trip, Tiny a little black beauty, who kept Mama Tracey company for a while and many happy times walking Digby, a dog I would gladly have adopted if I didn't have 8 already. Beautiful Digby is now in his forever home also, such joy for this stunning boy.
In May 2019 whilst out walking my favourite boy Digby (I know, you shouldn't have favourites!) I saw some little creatures leaping about in the distance. At first, for some strange and inexplicable reason, I thought they were goats, but on approaching them I realised they were five adorable puppies. I do believe they had been dumped there just before I arrived as a car had stopped as I was walking, but they were too far ahead to see. I am grateful fate brought me to this spot when it did, I managed to encourage 3 of them to follow me back to the shelter, scooped up a little one that could barely walk and with Digby remaining calm and patient we made it back to welcome arms, and volunteers immediately running to find the remaining two. All were saved, and sponsored on the spot, the little weak baby I named Casper, and in time he thankfully made his way to the UK.
I've been able to share some awesome road trips with the brilliant Lesley Baker. We took the puppies to the vets for their first vaccinations, we took a dog to be groomed - big dog, heavy crate and much hilarity. Even in the hardest of situations, humour can stand you in good stead when volunteering. My Thelma & Louise memories will live with me forever and I look forward to making more in September 2019.
On one of the trips I was lucky enough to celebrate Dora's birthday with her and the gang. To see the heart and soul of Amicii happy and carefree for a few hours was a gift. I love this lady and am grateful for her strength, inspiration, vocation and love. She is truly remarkable in every way. There are so many other special members of the Amicii family. The incredible ladies and some men I've met can only make you feel all the richer for knowing them. I am truly lucky to have the time, ability and health to try and help them make a difference to the forgotten dogs of Romania and I hope I can for many years to come.
If Dora and Amicii have anything to do with it, one day dogs in this forsaken country will walk in the light, no longer having to hide in the shadows. In fact any animal in need is safe, once part of the Amicii family. I've had the pleasure to meet Pamela the goat, Noah the stunning foal, rescued, nurtured and now a magnificent horse, Eliza the donkey and I'm looking forward to meeting Barbara the lamb.
No one could call volunteering for Amicii in Romania easy, or dull or uneventful. It's a rollercoaster of emotions, experiences, hard graft, and lots of fun. September 2019 is going to be a very memorable and emotional trip. With help from some guys, Hubby amongst them, we are going to dismantle the old shelter.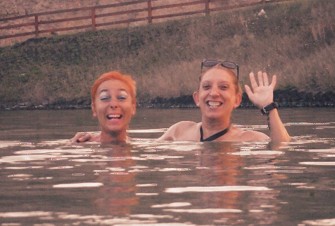 It isn't all hard work in Romania. There's time for some rest and relaxation too!It has served Amicii well, but the gruelling work there will become a thing of the past. The new shelter, one of its kind in Romania, a beacon of enduring compassion and hope for man's best friend.
Amicii has changed my life. Back home I do the adoption follow ups and what a joy and privilege they are. Seeing the dogs go from forlorn, tortured souls, often ill or injured and without love to being loved beyond compare is truly unbeatable, for Amicii, for them and for me.
Don't think about volunteering, just do it. I promise you will be forever grateful you did.