How Deano's Life Changed Thanks To Amicii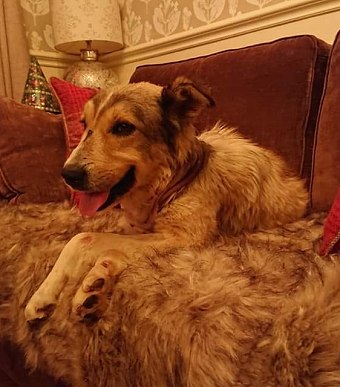 From the streets of Romania to the King of the sofaIn September of 2018, Amicii volunteers, Lesley and Tracey made the trip to Romania to help care for our shelter dogs. Whilst walking some of our Amicii dogs they came across a male dog at the side of the road looking very frail and searching for food. He had a huge tumour on his tummy and had severe mange meaning he had lost most of the fur around his neck and his back end. He was exhausted and had pretty much given up on life. The girls managed to get a lead on him and he slowly struggled back to the shelter. It wasn't looking good for him but he needed help. He was fed and watered and held close with promises he would be safe.
The next day, Deano as he'd been affectionately named, was taken to the local vet for assessment and operated on. Although his rescuers had to say their goodbyes and return to the UK, their efforts to save Deano didn't stop there. A fundraising campaign was started to help cover the cost of his treatment and with the Amicii family and friends rallying round, the £330 raised wasn't just sufficient to pay the vet bill, but enough to ensure him a place on a transport to the UK. With the fantastic news from the vet that the tumour was benign, a new life waited for Deano.
Three months after initially being found starving and close to death, Deano was on the Happy Bus to Britain to be fostered by Tracey and Tony Johnston. They gave him a loving home and, unsurprisingly fell in love with him. Not long after fostering Deano they decided they couldn't let him go and formally adopted him.
In March of this year, Tracey & Tony collected another addition to their family in the form of Amicii Dog, Pippa and were so very kind to bring Deano along with them. It was so emotional to see the difference in him and how well he was after five months.
True to our motto - Amicii never gives up on a dog.