A Week In The Life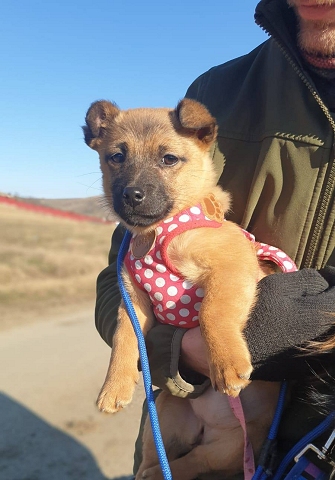 British Amicii volunteers, Emily Austin and her partner Ashleigh Robins are currently spending several months out in Romania carrying out voluntary work for the charity. Emily gives us an insight into a typical week at the shelter.
Monday We spent the morning doing some jobs around the shelter, this included cutting up wood, helping with some cleaning and also spending time with the dogs. We had hoped to continue working on the enclosures for Tibi's dogs but the weather was bad and everything was frozen (not great conditions for slabbing!) In the afternoon we went to look for a dog that had been spotted in a local village, we had been told that he was very skinny and struggling to walk. We managed to find him but couldn't catch him unfortunately, he was living inside a factory yard close to the railway and the security staff said that he had been there for over a year. We put lots of food down for him and go back to feed him when we can, I believe that they are also feeding him too.
Tuesday We had a really productive day on Tuesday, we managed to get lots of dogs out for a walk and take photographs and provide updates for their sponsors/adopters. It's wonderful to see the dogs out of their enclosures, they are excited by all of the new smells and love spending some time exploring!
Wednesday on Wednesday morning we continued our photoshoot and managed to get several more dogs out for a walk. In the afternoon our vet Illinca came to the shelter, all of the new dogs needed vaccinations and to be given various treatments such as dewormer and flea treatment. This is a difficult task to manage on your own as you have to keep the dogs as still as possible, but both Ash and myself were on hand to help. After Illinca had left we spent a while looking for a Shepherd type dog that was spotted on the main road close to the shelter, we knew that she was at risk being so close to the road but she was nowhere to be seen unfortunately (we will keep searching!)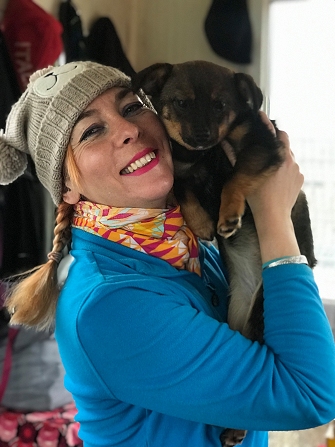 Thursday
This was our vet day, we took a new dog to be spayed and also Beno (with Cami) and Isaac to be neutered. This is such an important part of our work, we ensure that all of our dogs are sterilised if possible. We also paid a visit to the pet shop in Cluj as we wanted to buy some high quality tinned food for Cariad, she's a skinny girl that needs nutritious/high quality food.
Friday On Friday we collected the dogs from the vets and took them back to the shelter, unfortunately Isaac couldn't come back to the shelter as he needs some further treatment but we hope that he will return soon
Saturday We spent the morning helping Daniella collect food donations at our local supermarket, we received both dry food and tins to help feed the dogs. It's wonderful to see so many familiar faces there and also some new supporters donating food.
Sunday Today was shelter day and we spent the morning cleaning the dogs enclosures and then spent the rest of the day working with the dogs. We spent the afternoon working through the chip list to ensure that the information was correct so that the dogs can travel to the UK on Monday, we also had to give worming tablets to all of the dogs travelling. After this, we took Ralph and Daphne out for a walk, these are the dogs that followed Toma all the way to the shelter from where they were living. They have made great progress and love coming out on a walk with us
Another fab week at Amicii Dog Rescue